Aqua Natura Water Park, Benidorm, Spain
Aqua Natura Water Park Location
The water park is locaten 3.5 kilometres inland from Playa de Ponient one third from the Old town end of the beach. Just to the north west of Rl Planet area of Benidorm.
To view location Zoom out in the above Aqua Natura Map
The sister attraction Terra Natura Wildlife Park is located adjacent to the Aqua Naturawater park and a little furtherfrom the coast
Address is Foia,del Verdader, 1 (03502) Benidorm, Alicante province
Aqua Natura Water Park Video
Aqua Natura Water Park Introduction
Aqua Natura Water Park is a smaller compact park that covers an area of 40,000 square metres, approximatly 250 x 160 metres
La Cresta water slide, Aqua Natura Water Park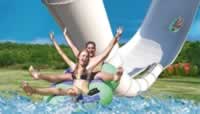 La Cresta Slide - Aqua Natura
La Cresta water slide Description
La Cresta water slide is unique in the world in that it allows riders to experience the feel of zero gravity. This is achieved by having an 8 metre uphill section.
After doing a fast descent the riders inertia takes them past the uphill section before descending again into the pool. The feeling of zero gravity is felt as you come to the top of the uphill section.
Either 1 or 2 riders sit on a float for this chute.
See Location of La Cresta water slide on our Aqua Natura Map 
Wave pool, Aqua Natura Water Park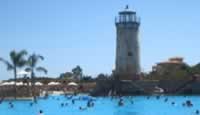 Lighthouse - Aqua Natura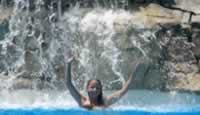 Wave Pool
Wave pool Description
The largest pool in the park with a beach with 3 islands and a beach and of course a beach bar
The pool covers 5,000 square metres about the size of 2 olmypic size swimming pools, so there is plenty of room. The pool incorporates a wave section and it is surrounded by rocks, waterfalls and geysers.
The waterfall cascades water over the rock face, see photograph.
The geyser is a powerful jet of water that erups out of the pool.
To one side ai the Water Chute Zone
See Location of Wave pool on our Aqua Natura Map
Wave Pool | Water chutes | Children's Pool | La Cresta | SPA and Sun Deck
Water chutes, Aqua Natura Water Park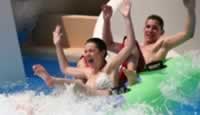 Water chute - Aqua Natura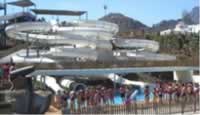 Zig Zag - Aqua Natura
Water chutes Description
Always an extemly popular feature in water parks. Aqua Natura has several chutes including
La Cresta
A 15 metre heigh roller coaster style ride that gives the effect of zero gravity as you ride over the central hump in the ride.
You ride on floats for either 1 or 2 people
Black Hole
Plunge into a black tube with strobe effect lighting in this fast tubular chute with a diametre of 1.4 metres and 104 metre long
Adventure River
A 2 metre wide U shaped chute, 123 metres in length & starts at 12 metres, with a fast steep decent.
Zigzag
Zigzag is the Giant Slide
that is U shaped, just over a metre wide, 105 metres long & is 12 metres heigh
Zoom around the curves of it's twisting course
Multi-Track
4 parallel slides, ideal for a race with your freinds
Niagara
A U shape slide starting from 14 metres
Speed Hole:
A fast tube chute where you use a float
Kamikaze
A very adventurous free fall style chute.
See Location of Water chutes on our Aqua Natura Map 
Childrens area, Aqua Natura Water Park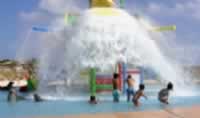 Splash Pool - Aqua Natura
A wide variety of children playground equipment is scattered around the kids area
Irregularly-shaped swimming pools
A large pool
with and average depth of less than half a meter and less than 1 metre at its deepest
A smaller & very popular Splash pool where water is dumped from the central structure
See Location of Childrens area on our Aqua Natura Map
Sun deck and Spa, Aqua Natura Water Park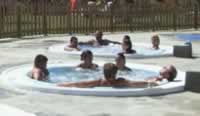 Spa - Aqua NaturaSun deck and Spa
Sun deck and Spa Description
See Location of Sun deck and Spa on our Aqua Natura Map
Aquarium, Aqua Natura Water Park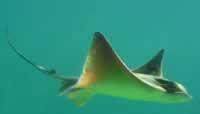 Ray - Aqua Natura
Aquarium Description
See Location of Aquarium on our Aqua Natura Map
Sea lions, Aqua Natura Water Park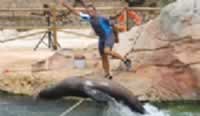 Sealion Show - Aqua Natura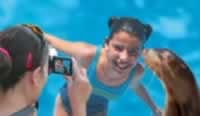 Kid with Sealion - Aqua Natura
Sea lions Description
See Location of Sea lions on our Aqua Natura Map 
Restaurants and Picnic area, Aqua Natura Water Park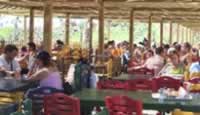 Restaurant - Aqua Natura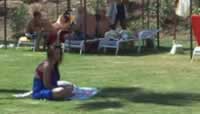 Picnic area - Aqua Natura
Restaurants Description
See Location of Restaurants on our Aqua Natura Map