Hotel Ambassador Playa I and II Benidorm. Levante Beach 250m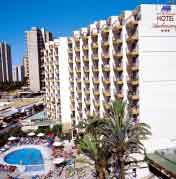 Photograph Ambassador Playa hotel
Ambassador Playa hotel I & II
Gerona, 39 41 Benidorm, Costa Blanca, Spain
Ambassador Playa Location:
15m to bars, restaurants and cabaret clubs 250m walk from Levante Beach Nightclubs may cause some noise at night
Book Online or More Information
Book a Package Holiday with Flight or just the Hotel with Thomson Holidays


Book Accomodation, flights & transfers with
Sunshine Holidays


Hotel facilities
Air-conditioning (high season)
Laundry facilities (coin-operated)
Family / Children's services
Children's section of pool
Playground
Highchairs
FREE cots
Swimming / Health Suite / Fitness Centre /Gym / Spa Facilities
Pool
Pool bar in high season
Children's section of pool
Indoor pool
Sunbeds
Fitness centre (separate management) with

gym
sauna
Turkish bath
whirlpool bath
indoor plunge pool
solarium
massage and beauty treatments available
Games Facilities
Bars and Entertainment
2 bar/lounges
Western bar a
line dancing club
Nightly dancing to live music and records
Regular shows
Ambassador Playa hotel Description / Information:
The Ambassador Playa consists of two sister hotels I and II linked by a covered walkway - you'll be allocated your hotel on arrival. With the shared entertainment and many popular bars and restaurants surrounding the hotel, there is plenty of action to choose from.
Great for couples and families, as well as young singles.
Room information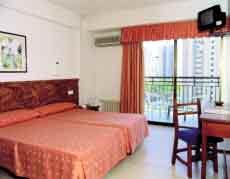 Photograph Ambassador Playa hotel bedroom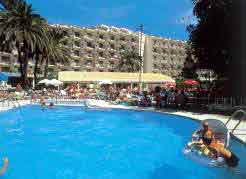 Photograph Ambassador Playa swimming pool
Book Holiday extras