Flamingo Playa Apartments
Flamingo Playa Apartments 2 Keys Rincon de Loix Levante beach 800m
Flamingo Playa Apartments
Location:
700m to the edge of New Benidorm 800m from the sea 200m to shops, bars and restaurants Local bars and clubs can be noisy, especially in July and August

Paraiso 10 apartments 3 Keys
Paraiso 10 apartments, Benidorm, Costa Blanca, Spain
The Paraiso 10 Apartments are light, airy and modern. Relax by the pool or head for Levante Beach, just 800 metres away.
These apartments suit everyone especially families with children

Primavera II Apartments 3 Keys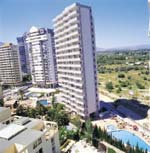 The Primavera II Apartments
Location:
Centrally located in the resort yet in a quiet area
500m to Levante Beach
The uneven surfaces in the surrounding area make this hotel unsuitable for the less mobile
The Primavera II Apartments are in a quieter area of Benidorm, yet still quite centrally located. These apartments afford views across the resort and are close to all the local amenities including the large Benidorm market and Levante Beach, as well as the shops, restaurants and bars in the surrounding area.
Book Primavera II Apartments


Click to book
Accommodation, Flights & Airport TransferClick to Check for
lowest price Accommodation Only Sunshine Holidays


Vacanza apartment Complex 2 Keys
The Vacanza is complex of six apartment blocks of bright, modern apartmentsis set in attractive grounds with a tropical style pool area surrounded by palm trees.
Location
TheVacanza apartment Complex is located on a Hilltop position on the northern headland of Levante Beach.

Vista Mar apartments 2 Keys
The Vista Mar hotel is a popular simple apartment complex with a large swimming pool sun terrace and garden
Location
The Vista Mar hotel is located 700 metres from Levante beach and the resort centre and slightly nearer to bars and restaurants. A mini supermarket is located next door.
Book Accomodation, flights & transfers with


Terralta Apartments 3 Keys
Fabulous swimming pool
Location
1km to Poniente beach
1.5km to resort centre with shops, bars and restaurants
Bus stop outside apartments
Levante Beach Apartments 2 Keys
Levante Lux Apartments 3 Keys
Kennedy 8, Benidorm, 03500
2 Star
Gambo, 1, Benidorm, 03501
2 Star
Near Beach & Old Town. The facilities of the Avenida Hotel, opposite are available to apartment occupiers
Ciudad Real 3 - Costa Blanca, Benidorm, 03500
3 Star
Cl Oviedo 6, Benidorm, 03502
Star
Estocolmo, 8, Benidorm, 03581
2 Star
Santander, Benidorm, 03500
2 Star
Poniente beach 50 metres