Benidorm Gay Bars & Clubs, Costa Blanca, Spain
Spain has some wonderful Gay nightlife holiday destinations, Benidorm being one of them.
The other top Spanish gay destinations are Playa del Ingles in Gran Canaria, Sitges & Barcelona on the Costa Dorada and Ibiza town on Ibiza, Toremolinos on the Costa del Sol are the main ones.
The photograph on the left (click photo to enlarge) is Calle Cuatro Cantones in Benidorm's Old town. The Lovers pub is on the right, Bears bar in the bottom left corner where the pavement starts to widen to start Plaza de la Constitucion which extends out of site round the corner to the right. the square (Plaza) is also the location of the Queens hotel.
The narrow hilly streets of Benidorm Old Town are the heart of Benidorms Gay Village
Most of the narrow lanes of Benidorms Old Town have at least 1 gay bar or club, some of them several
7th Heaven Bar
7th Heaven say this is the bar where "angels meet little devils in Benidorm"
A straight friendly gay bar with a bar and chill out lounge
Open 21:00 to 04:30
7th Heaven, Calle Alicante 18, Benidorm Old Town

Babylon Cafe, Bar, Hotel
In the heart of Benidorm's Gay Village
Drag acts with the Bobby Drake show on Tuesdays & Fridays
The Babylon is also a small gay hotel with comfortable rooms at low rates
Babylon, Calle Alicante, 28, Benidorm Old Town
Bar 69
Highly Rated
English Bar
Good cocktails & Sangria
Terrace good for people watching.
Part of the Queens Hotel Trio, All Mixed Bar Gay & Straight, & all next to each other

Bar 69 Bar
Queens Hotel Bar
Olivers Bar
Bar 69, Plaça De La Constitució 03501 Benidorm
Bears Bar
Cruising, bar, Video, downstairs Dark room with sling and bondage X
Plaza de la Constitucion, 9, Benidorm Old Town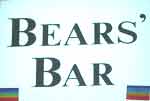 Brief Encounters Bar
Brief Encounters Bar, Calle Santa Faz 21, Benidorm
Bulges Bar
Open Wed - Sun: 21:30–02:00
Bulges Bar, Calle St Vincente 12, Benidorm
Casa Don Juan Cafe & Bar
The Don Juan Cafe Bar is located centrally in Benidorm's Old Town gay village at it's busiest corner
Open 10:00 to 02:00
Don Juan Cafe Bar, Calle Santa Faz 28. Benidorm Old Town,03501, Spain
Caspers Cafe Lounge Bar
English bistro turning to more of a bar later on.
Open all day to midnight (2am in high season)
2 Terraces open until
Meals - Breakfast, lunch & dinner
Snacks
Your hosts: Brian & Mark
Drag Shows Thus.
Wi-Fi
Caspers Bar, Calle San Miguel 6, Benidorm
Code Bar
Modern, gay bar with a friendly atmosphere
Located 1 venue lower down Calle Alicanten from Mercury Club
Code Bar, Calle Alicante 8, Benidorm
Open Mon - Sun: 9pm – 2am
Company Bar also known as the Co Bar
Fun bar with friendly atmosphere with your hosts Trev & Dave
Plasma video screen with camp classic film clips and music videos
Music from the 1960's to modern pop
Company Bar, Calle San Miguel 16, Benidorm Old Town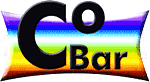 Dark Angel
Diva Divo
Drift Bar
Domino bar
Air Conditioned
Downstairs Games Room

Full sized Pool Table
Cyber Cafe, 2 Wii Consules, X-Box 360, Playstation3 on Large screen TVs

Large range of Drinks
WiFi & Laptop power points
Food

Breakfasts
Snacks
Meals
Fresh Coffee
English Tea

Terrace
Domino bar, Carrer San Miguel, 12 or Carrer Martinez Oriola, 15. Benidorm
Eagle Bar
This is the largest gay bar in Benidorm
Gay Cruise bar. Leather rubber Army, Uniform
Catering mainly for mem
Brand new refurnished bar from scratch
Very popular
Eagle Bar, Calle De Santa Faz, 5 Benidorm,
Incognito Bar
A comfy bar popular with more mature gay men
Bar run by Pepe used to be at JJ's further down the hill
Large Dance floor, TV and video room
Dark room and cabins.
Drag shows on Fridays & Saturdays usually in Spanish
English, Spanish, Dutch and German Spoken
Located away from the gay village in the Old Town, on Avenida Uraguay, just before reaching the overhead footbrige at Via Pa Nicaragua
Incognito Bar, Calle Paraguay, Benidorm
Intimate Bar
Karaoke bar owned by Louis formerly from the "Church pub" in Bolton UK
Calle La Palma, 6, Benidorm Carrer de la Palmer Benidorm Old Town, just off the Walking street on the other side from the main part of the Old Town
J.J.'s Bar
For mature men and their admirers.
JJ's is one of the largest Gay Bars in Benidorm.
Bar with a comfortable lounge area and a dance area
Pool room, TV Room
Video Lounge and Darkrooms with cabins
Later on in the night the customers tend to go to Incognito further up the hill
Very cruisy in the back
Located away from the gay village in the Old Town, on Avenida Uraguay, Benidorm. 111 metres beyond MacDonalds. Next to Picola Jenezia Show Girl bar.
Kafee Klee
Fun Pub & Cabaret bar
Highly rated Show at 9:30pm
Mixed clientele
Your hostesses - Paula Klee from the Netherlands married in Bangkok to Monique Klee
Opposite Ritch Bitch
Open 20:00. Closed on Tuesdays.
Kafee Klee, Calle Del Pal, on the flat Levante side of Benidorm Old Town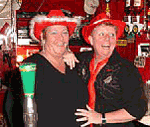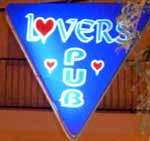 The latest in music
2 large darkrooms with hardcore gay videos
Open 9pm - 4am
Lovers Pub, Calle Cuatro Cantones 3, Benidorm Old Town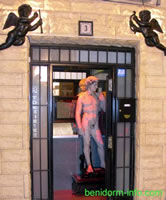 Lovers Pub Benidorm Old Town
Meditereaneo Bar
Meditereaneo Bar
Calle Alicante, Benidorm Old Town
Mercury Disco Club
The top gay disco in Benidorm
Younger Crowd
Dance Floor
Dark Room
Mercury Club, Calle Alicante, Benidorm Old Town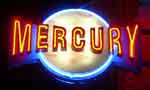 Minerva Bar
Calle San Vicente 22, Benidorm Old Town
Mr Me Bar
Air conditioned Gay bar & lesbian bar
Open 21:00 to 02:00
Mr Me Bar, Calle San Vicente, 17, Benidorm Old Town
Out Bar
Friendly Gay Bar with many straight customers as well.
Free WiFi
English Run bar with Kevin, the barman from Yorkshire
Excellent customer service
Music - Wide range
Out Bar, Carrer Sant Vincent, 17 Benidorm Out Bar
Paneils Bar
El Papagayo Bar - The Parrot bar
A popular meeting bar wyhere you can have a good chat because the popular mix of music is not too loud
Your hostsYuri &Mario from Holland speak Dutch, English, German, French and Spanish
Open 22:00 till 02:30
See the collection of Parrot memroibilia
El Papagayo Bar , Calle Alicante 11, Benidorm Old Town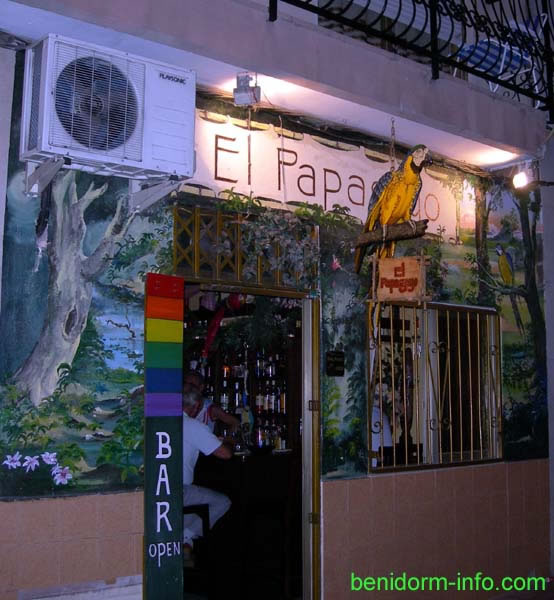 El Papagayo Bar Benidorm Old Town
People Bar & Nightclub
Large Disco bar playing the latest sounds
Upstairs 2 cruisy dark rooms and gay porn video lounge
Open 10pm - 4 am. Closed Tue
People Bar, Calle Santa Faz 29, Benidorm Old Town

Peppermint Bar
Popular friendly Gay bar
Your hosts Jimmy & Tony
Open 11pm - 4 :30am. Closed Mon
Gay bar - Attracts Leather, Sease, Boyz, Blokes, Bears & Real Men
Peppermint Bar, Calle San Vicente 11, Benidorm Old Town

Queens Hotel bar *** Very popular ***
Drag show by Wayne (Levi) and Elvis show by Derek, are popular with both straight and gay customers
Fun bar, open all day to non residents. Meals and snacks. Cabaret or karaoke 7nights a week
Now with a roof top bar with fabulous views of both Levante and Poniente beaches the mountains and the Old Town. The bar is ideal for a coffee, a snack or a long cold drink
Part of the gay Queens hotel
Queens Hotel bar photographs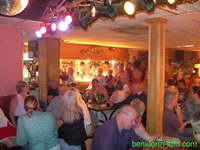 The very busy Queens hotel bar
Queens Hotel bar, Plaza de la Constitucion, 5, Benidorm Old Town
Rich Bitch Cabaret Bar *** Very popular ***
Top "Adults only" drag cabaret show bar popular with both straight and gay customers
Entrance charge €5.00 Euro Per Person, may need to book.
Entrance charge plus a 3 course meal before the show at Two Palms Restaurant
Open (pm until Late
Show time 10.30pm – 1.00am but seats Must Be Occupied by 9.30pm
Your Hosts Gary Brown (Jordan Rivers) and Michael Beddow
The Rich Bitch was featured on BBC1 television series 'Escape to the Sun' for 11 months
Usually closed in February and a few days either side
Opposite Kafee Klee
Calle del Pal, 4, on the flat Levante side of Benidorm Old Town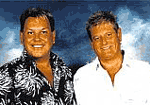 Gary & Michael of Ritch Bitch
SenSations Bar
SenSations Bar, Calle Alicant 41, Benidorm
The Look Bar
A large modern bar
Plays the latest dance music from both Europe & Spain
Popular with a younger crowd
Large dark rooms and video lounge behind bar
Calle Santa Faz 12, Benidorm Old Town