Benidorm Palace Theatre Show

Location of the Benidorm Palace
The Benidorm Palace theatre is located in the Ricon de Loix area of Benidorm at
Avenida Severo Ochoa s/n, 03503 BENIDORM, Alicante - España
See location on our Benidorm Street Map
Useful local telephone numbers to organise public transport to the venue:
Urban Bus: 96 585 4322 (Llorente Bus Services)
Buses 1, 4, 10, 15, 20, 47 Palace Benidorm Palace
County Bus: Tel 902 42 22 42 (Grupo Alsa)
The Benidorm Palace Show - best show in Benidorm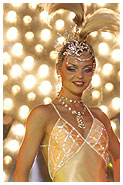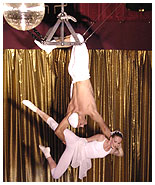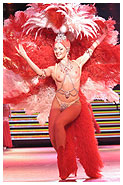 See an absolutly fabulous show in the theater styled nightclub Benidorm Palace. Before the show you can have a meal book through the Palaces website for a meal and show or book via this site for the show only at a discounted price. You can also dance on the large dance floor to the resident orchestre.
A very large stage is behind the dance floor. What is surpricing is that the dance floor is raised to the level of the stage dramatically increasing the stages size and allowing the performers to come right out into the audience
Besides the large troup of female and male dancers are various top specialty acts from around the world.
The spectacular lighting effects bring the feathers of the magnificent dancers costumes to life.
Benidorm palace venue
Confortable seating capacity for 2000 people in a plush nightclub with tables setting
Perfect visibility
Air-conditioning and heating
Dance floor with a mobile centre measuring 10x7 metres and catwalk measuring 15 metres
Stage measuring more than 40 metres
Fifteen dressing rooms
Hight quality sound and lighting equipment
Internal telephone communication and more than 50 external telephone lines
43 metre foyer equipped with showcases to display your products
Parking for more than 1500 vehicles
Cloak room service
Bar and restaurant service
Distinction in all services.
Prices
Visit there web for latest prices or book via this site for discounted prices - details Benidorm Palace
Benidorm Palace Show only
.
or
Benidorm Palace Show + Evening Meal
Typical Menu
Spring cream
Nowegian smoked salmon
with king prawns and small tarts in Tartar sauce
Grilled sircoin steak
(with baked aubergine, potatoes and baby carrots)

Book Benidorm Palace Show
Book and/or More information including price for the
Benidorm Palace Show
Click Banner

Your Entrance ticket includes 1 soft drink
Not included Transport
The Benidorm Palace is easy to get too by public transport or Taxi